Young Adult books with trans and gender diverse characters
There are a growing number of YA books with trans and gender diverse characters, although it should be noted that there are issues with the language and framing in some of these books. We suggest reading some reviews before reading the books as some may contain transphobic content.
For lists and reviews see:
Recommended Books with Trans/NB/Gender Non-Conforming/Genderqueer Characters (by Kyle Lukoff, Queer Books for Teens)
Sex and Romance in Trans YA (by Vee Signorelli, Teen Librarian Toolbox)
2016 Transgender and Gender Non-conforming Books for Teens (by Danielle Jones, YALSA – Young Adult Library Services Association)
Queer YA: Fiction for LGBTQ Teens (by Daisy Porter-Reynolds)
I'm Here. I'm Queer. What the Hell do I Read? (by Lee Wind)
Casey the Canadian Lesbrarian (by Casey Stepaniuk)
41 Transgender-friendly Books for Young Kids (by Sarah Mirk, bitchmedia)
LGBTQ* Fiction for Children and Young People (compiled by Liz Chapman)
Booklist for Trans Teens (goodreads)
Trans* Young Adult Books (goodreads)
YA books with Transgender Characters (goodreads)
A selection of YA books:
The art of being normal
Lisa Williamson, 2015, David Fickling Books
Website: http://www.lisawilliamsonauthor.com/books.html
Beautiful music for ugly children
Kristin Cronn-Mills, 2012, Flux
Website: http://kirstincronn-mills.com/?page_id=176
Beauty queens
Libba Bray, 2011, Scholastic Paperbacks
Website: https://libbabray.com/books/beauty-queens/
Being Emily
Rachel Gold, 2012, Bella Books
Website: http://rachelgold.com/emily/
F2m: The boy within
Hazel Edwards & Ryan Kennedy, 2010, Ford Street Publishing
Website: http://www.hazeledwards.com/page/f2mthe_boy_within.html
For today I am a boy
Kim Fu, 2014, Houghton Mifflin Harcourt
Website: https://www.amazon.com/Today-I-Am-Boy/dp/B01L9EDV4M
Freakboy
Kristin Elizabeth Clark, 2013, Farrar, Straus and Giroux
Website: http://kristinelizabethclark.com/book/
I am J
Cris Beam, 2011, Little, Brown and Company
Website: http://www.crisbeam.com/i-am-j/
If I was your girl
Meredith Russo, 2016, Flatiron Books
Website: http://us.macmillan.com/books/9781250078407
Just girls
Rachel Gold, 2014, Bella Books
Website: http://rachelgold.com/just-girls/
Love in the time of global warming
Francesca Lia Block, 2013, Henry Holt and Co.
Website: http://www.francescaliablock.com/books/entry/love-in-the-time-of-global-warming-2
Luna
Julie Anne Peters, 2005, Little, Brown and Company
Website: https://www.littlebrown.co.uk/books/detail.page?isbn=9780316011273
Parrotfish
Ellen Wittlinger, 2007, Simon & Schuster
Website: http://www.ellenwittlinger.com/parrotfish.html
Two boys kissing
David Levithan, 2013, Alfred A. Knopf
Website: http://davidlevithan.com/books/two-boys-kissing/
Other books for older readers: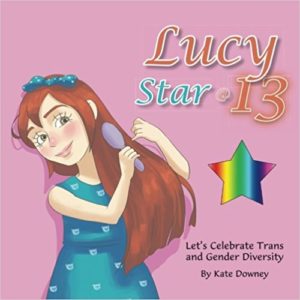 Lucy Star @ 13: Let's celebrate trans and gender diversity
Kate Downey, 2017, Balboa
Website: https://www.amazon.com/Lucy-Star-13-Celebrate-Diversity/dp/1504310322